G7 Urban Sustainable Urban Ministers' Meeting in Takamatsu, Japan
HUD Secretary Marcia Fudge, along with Calvin Johnson, deputy assistant secretary for research, evaluation and monitoring, and Cindy Campbell, director for international and philanthropic affairs, attended the second G7 Sustainable Urban Ministers' Meeting, which was held in Takamatsu, Japan, from July 7 – 9, 2023. This meeting follows last year's gathering hosted by Germany in Potsdam.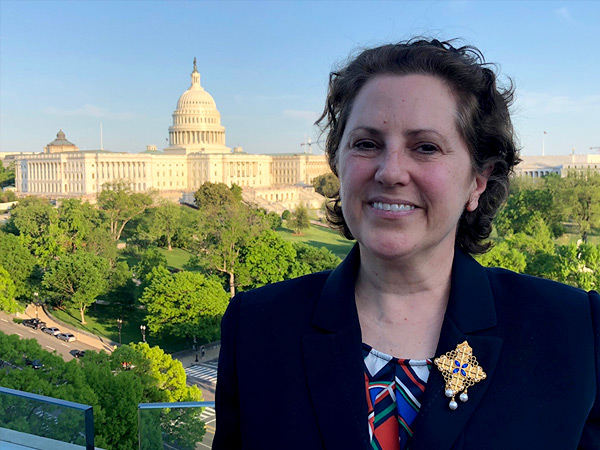 Cynthia Campbell, Director of PD&R's International and Philanthropic Affairs Division.
The Sustainable Urban Ministers' Meeting is one of several ministerial meetings conducted as part of the larger G7 Summit, which was held in Hiroshima in May 2023. The meeting was an opportunity for the U.S. delegation to meet with their counterparts from France, the United Kingdom, Canada, Japan, Italy, and France. Secretary Fudge met with several of the ministers to discuss shared interests as well as policies and approaches to urban development and affordable housing.
The meeting covered four major topics: carbon neutral and resilient cities, inclusive cities, digitization, and the United States' support of efforts in Ukraine. Secretary Fudge addressed the ways in which the United States and HUD are furthering the development of carbon neutral and resilient cities. In her remarks, she noted, "As a former mayor, U.S. Congresswoman, and now the leader of the United States agency that is the voice of local leaders in our government, I am pleased we are starting with a conversation on carbon neutral and resilient cities. The pathway to our carbon-neutral future runs directly through our world's cities and municipalities. Our cities are centers of innovation and hubs of economic growth. They are home to millions of hardworking people and, as such, are on the frontlines of some of our world's most pressing challenges. Among them is our changing climate, increasing weather related disasters, and the challenges it brings. President Joe Biden and the entire Biden-Harris Administration have taken an ambitious stance towards decarbonization. Our goal is to achieve net-zero emissions and a full clean energy economy by 2050."
Climate change was an important theme at this year's G7 meeting. In discussing how the U.S. government is addressing climate change, Secretary Fudge said, "Through the Department of Housing and Urban Development, we strive to ensure housing, especially housing in underserved communities, is a part of the solution to secure a low-carbon future. We intend to do that as we lower housing costs and make resilient housing more affordable…. It is estimated that one in three households in the United States experience[s] energy insecurity. That means millions of people in the United States either cannot afford or do not have access to a reliable source of energy. Without that access, individuals and families are more likely to have to skip meals or forgo medical care, in order to heat their homes or keep their lights on. The United States does not believe people should feel forced to live this way."
HUD provided input for all sessions. During the second session, which discussed inclusive cities, the United States noted that, "More than half of the world's population lives in cities. The proportion of city residents is only projected to grow. By 2050, it is estimated that 70% of all people will call our world's cities home. American cities represent the diversity and great promise of our nation. HUD is one of the few agencies that remain at the heart of the American public — and it is not a role that we take lightly. It is imperative that we ensure that cities are places where people have equitable access to social, economic, and political opportunity. Access to good paying jobs, sanitary and affordable homes, and where rights to live freely are guaranteed. To get there, the United States has prioritized building more affordable, safe, and energy-efficient homes in every community." During the open session, we emphasized the importance of inclusiveness in our discussion of the Interagency Task Force on Property Appraisal Valuation Equity (PAVE). This program is unique to the United States, and the concept was well received by attendees.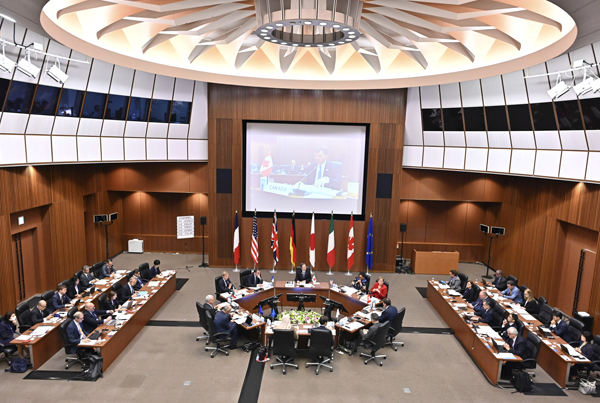 Opening session of the G7 Sustainable Urban Minister's Meeting. Photo credit: G7 Official Photographer
During the third session, which focused on digitization, HUD highlighted its efforts to provide open-source datasets as well as research and market reports. The HUD team discussed HUD's training programs to ensure that the public can easily navigate our website, learn about key programs, and access grants.
At the final session, representatives from all of the G7 nations denounced Russia's unprovoked and unjustified war against Ukraine and expressed their continued strong support for Ukraine.
Italy will host the next G7 Sustainable Urban Ministers' Meeting in October 2024. We look forward to continued engagement with our G7 counterparts.