HSI COE Grants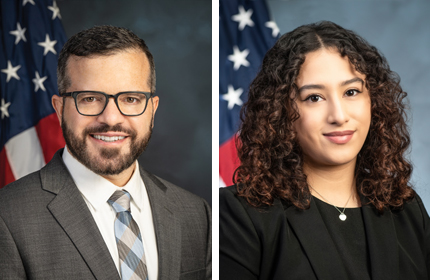 Solomon Greene, Principal Deputy Assistant Secretary for Policy Development and Research (left) and Sahian Valladares, Special Advisor in the Office of Policy Development and Research (right).
Solomon Greene, Principal Deputy Assistant Secretary for Policy Development and Research
Sahian Valladares, Special Advisor in the Office of Policy Development and Research
Last week, HUD awarded $10.5 million for Hispanic-Serving Institutions (HSIs) to establish Centers of Excellence that will advance housing and community development research in Hispanic/Latino communities. HUD's commitment to meeting the needs of families facing significant barriers to housing and economic opportunity and improving the quality of life in underserved communities has been unwavering. With this announcement, we are taking an important step forward to generate new research and evidence-based insights that will ensure access to quality affordable housing and improve lives in Hispanic/Latino communities.
HSIs are nonprofit degree-granting institutions in which at least 25 percent of enrolled undergraduate students identify as Hispanic or Latino. Historically, HUD has awarded individual research grants to HSIs in response to specific funding notices and HUD-identified research needs or supported HSIs' efforts to revitalize and serve their communities.
Although these projects have had a positive impact, HUD is eager to help HSIs build their capacity to fill the most crucial knowledge gaps about the housing and community development challenges and opportunities that Hispanic/Latino and other underserved communities face, often in partnership with community-based organizations and community residents.
This goal is the driving force behind our Centers of Excellence (COE) model: research is most effective at shaping housing and community development policies at the local, state, and national levels when it is grounded in the experiences of people and communities most affected by those policies. The longstanding, complex challenges confronting underserved urban and rural communities have defied conventional approaches for decades. We hope that the COE model will help not only fill knowledge gaps but also spark innovation and deliver real and lasting impact.
COE grantees will use this support to produce actionable research on a range of housing and community development topics that also advance HUD's Learning Agenda:
Arizona State University received $3,000,000 for the Arizona Research Center for Housing Equity and Sustainability (ARCHES) HSI Center of Excellence, a collaborative effort with the University of Arizona Drachman Institute. ARCHES aims to enhance housing security, climate, and health in the arid Southwest, including New Mexico, through research on equitable housing growth, aging, community health, and housing resilience using diverse data sources and rigorous analytics.
Texas Tech University was awarded $3,207,839 for the Center of Excellence in Climate Resilient and Equitable Housing (CECREH). CECREH will address disparities in disaster-stricken communities, especially among low-income and minority groups, by advancing research across various disciplines such as engineering, economics, and social sciences. This research will lead to innovative postdisaster housing recovery solutions for underserved communities.
The University of Texas at Austin received $2,459,527 for the UT Austin Equitable Technologies for Housing Innovation Center (ETHIC). ETHIC will research spatial patterns affecting housing inequity, develop an industrialized construction system for more affordable housing and jobs, and apply sustainable methods to tackle climate change's impact on housing equity across the supply chain.
Texas A&M University secured $1,832,634 to create the Center of Excellence in Hispanic Housing Studies (CoHHS). The goal of CoHHS is to enhance environmental health and economic well-being for Hispanic households and communities through community-informed practices, policies, and products. CoHHS also will use outreach programs to identify research-driven solutions and develop evidence-based toolkits to promote meaningful change.
This HSI COE initiative builds on the successful model of launching COEs at historically Black colleges and universities (HBCUs). Over the past 2 years, HUD has awarded $10.10 million to three HBCUs to conduct housing and community development research and strengthen their capacity to expand opportunities for underserved communities and promote equitable community development. (See the 2022 and 2023 announcements of these awards.)
With this latest grant announcement, we hope to empower HSIs to conduct research that directly addresses the unique and multifaceted challenges of the communities that surround them and the students they serve. As we celebrate Hispanic Heritage Month, we are fostering innovation and a shared commitment to creating a brighter, more equitable future for Hispanic/Latino communities.
We eagerly anticipate the opportunity to learn alongside these institutions and share invaluable research and evidence-based insights. Our goal is to ensure that the benefits of the HSI's work extend beyond the boundaries of own communities and that their research, as well as the new partnerships they are forging and the new models they are creating, enriches the lives of all.